It is #AgVocacy Forum time prior to Commodity Classic here in San Antonio. I got to sit down with my good friend, David Hollinrake, vice president of Agricultural Commercial Operations (ACO) Marketing for Crop Science, a Division of Bayer. We've been having fun agvocating since even before I was part of the Google Glass program.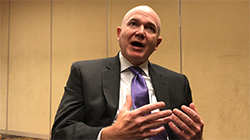 In this week's episode David talks about how and why Bayer is committed to investing in the concept of agvocating. That effort has trained 1,000 people so far and he says they have a goal of 10,000. I hope you enjoy our conversation just prior to the start of today's program.
Listen to this week's program here: ZimmCast with David Hollinrake, Bayer
2017 Bayer AgVocate Forum Photos
Subscribe to the ZimmCast podcast here. Use this url in iTunes or your favorite news reader program/app.