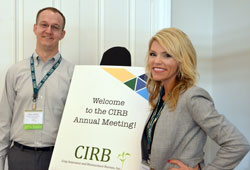 Last year at the Crop Insurance and Reinsurance Bureau annual meeting, we heard about the first class of the organization's Emerging Leaders Program. The program was so popular that the second class has almost twice the members and I had a chance to talk with two of those emerging leaders at the meeting this week.
Chock Hefner started his crop insurance career with Farmers Mutual Hail Insurance Company in 2010 and he's very excited about being a part of this program. "The program for me means that I get exposed to the ins and outs of especially the political side of the crop insurance and reinsurance business," said Hefner.
Nicholle Renshaw serves as the Regional Business Development Sales Representative for RCIS. "It was huge honor to be accepted into this program, it's been a real eye opener," she said.
The Emerging Leaders Program is for professionals in the crop insurance industry that seek to increase their knowledge and hands-on experience with key issues to help build the next generation of crop insurance leaders.
Listen to my interviews with Chock and Nicholle here:
Interview with Nicholle Renshaw, RCIS, CIRB Emerging Leader Interview with Chock Hefner, FMH, CIRB Emerging Leader