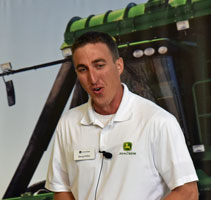 About a year ago John Deere offered a sneak peek at their new F4365 High Capacity Nutrient Applicator and now it's here!  Deere is officially taking orders for delivery this fall.  Chuck Zimmerman spoke with Doug Felter at the recent Reveal event in Iowa about this latest addition.
The Applicator wasn't thrown together overnight.  John Deere has pup a lot into this machine, making it comfortable for the operator, and efficient as well.
"The application speed on this unit is up to 30 miles per hour, and then it can do road transport at up to 46 miles per hour.  So you can really move between fields and within fields very rapidly, putting out a high volume of product as well," Felter told AgWired.
The single bin form can hold up to 330 cubic feet of product, or operators can choose a split bin, or even 4 bins to manage micro nutrients.  Each bin can be set to apply at a variable rate independent of the others, making it a great choice for precision agriculture.
The 365 horsepower engine is the same as the 7R, 8R and some 9R tractors.  In fact, 52 percent of the parts on this piece of equipment are also used on a John Deere sprayer or tractor, meaning the company already has a lot of experience making the systems reliable and durable.  It also offers dealers convince when stocking parts.
To hear more about the specifics of the Nutrient Applicator, listen to Chuck's interview with Felter here: Interview with Doug Felter, John Deere