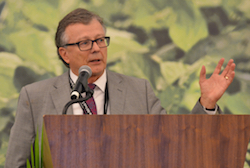 For the 4th year in a row U.S. Soybean Export Council (USSEC) has joined forces with the Midwest Shippers Association (MSA) to host the U.S. Soy Global Trade Exchange and Midwest Specialty Grains Conference. Sometimes it's easy to forget how our products get from point A to point B. We put our heart and soul into production and neglect the in's and out's of shipping domestic and international. Executive Director, MSA, Bruce Abbe, took time to shed some insight on shipping by truck, rail, barge and ocean liner.
A fairly new organization, MSA was started in 2002 with a core focus on specialty grains and food-grade soybeans are their leading commodity. "We have three priority areas our organization focuses on. One is transportation. We seek competitive shipping for our upper Midwest region. We have a key focus on international containerized shipping creating more exporting opportunities for specialized food and feed ingredients. And we are a networking organization."
Bruce said it was the 13th year for the specialty grain conference and this joint venture allows them to provide a number of shipping informational sessions along with breakouts on food and feed grade soy products with a focus on international markets. "USSEC does such a great job of going out and identifying, supporting and bringing in the buyers and trade teams. The event has really grown since we have gotten together."
Listen to my complete interview with Bruce to hear more about a few key issues impacting the shipping industry. Interview with Bruce Abbe, Midwest Shippers Association
Indiana Railroad Co.'s, Intermodal and Economic Development Manager, Eric Powell, spoke during one of those breakout sessions on the new developments for export container shipping through the inland intermodal rail service. Indiana Railroad has a collaboration with Canadian National Railroad (CN) on international intermodal.
"It is part of a growing business for us. We are averaging about 35% year-over-year growth with our service with CN. We want to make sure to get the word out to soybean growers, in terms of our capabilities."
Eric said they are in a container shortage at the moment because of the steep demand. Listen to my complete interview with him to learn more about that and what the future looks like in the transportation industry. Interview with Eric Powell, Indiana Railroad Co.
View and download photos from the event here: 2016 US Soy Global Trade Exchange Photos