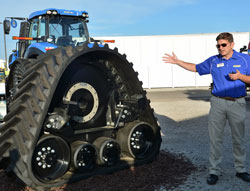 At Farm Progress Show last week, New Holland announced expansion of the SmartTrax™ offering for model year 2017 T9 Series tractors with the SmartTrax™ II Standard Track and Deep Traction Lug options and new belt traction lug.
"We heard from a number of customers who were searching for a similar solution at a lower acquisition cost, and we listened," said Dan Valen, Cash Crop Marketing Segment Lead at New Holland. "The new Standard design offers a cost-effective alternative to the premium Hi-Idler, featuring the same benefits with the exception of the aggressive approach angle."
Both the Hi-Idler and Standard modules are available with Agricultural lug tread or new Deep lug tread for added traction on the T9.600, T9.645 and T9.700 vehicles. The Agricultural lug tread has a tread height of 2 inches, while the Deep Lug tread height is 2.6 inches, making it ideal for very wet conditions or in loose or softer soils where traction is difficult to achieve. Both track belts are designed with a 153.3mm (6 inch) tread spacing, which improves traction in wet or soft ground conditions and optimizes tread cleanout in muddy or sticky field conditions.
Learn more about this new offering in the audio and video links from FPS below:
Listen to Dan's presentation here: Presentation by Dan Valen, New Holland
You can watch Dan's presentation below: