During the Farm Progress Show I got to spend time with Chun Woytera of New Holland. Like so many people I've worked with over the years with this company Chun just "gets it" when it comes to how important brand passion, team work and customer satisfaction are when conducting marketing campaigns. Chun's comments should be required listening for agrimarketers of all levels!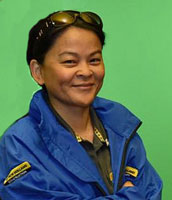 Chun is relatively new to the position of Senior Director of Marketing for New Holland North America, but she has been with the company for nearly two decades in a variety of different capacities. She has brought a new perspective to the marketing segment of New Holland and is enjoying the challenge. It was great to be able to work with her at Farm Progress Show and get to know her a little better.
Learn more about Chun in this week's program: ZimmCast with Chun Woytera, New Holland
Subscribe to the ZimmCast podcast here.