The new President of the American Agricultural Editors Association (AAEA) is Penton Farm Progress executive editor Mike Wilson, also one of the newly named Fellows of the AAEA.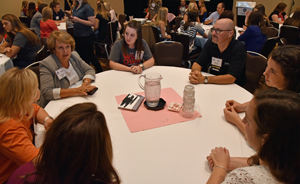 Here in this photo, Mike is mentoring students during the Ag Media Summit along with JoAnn Alumbaugh.
I spoke with Mike at the conclusion of this year's AMS to find out what his plans are as the new leader of the organization.
Learn more in this week's program: ZimmCast with Mike Wilson