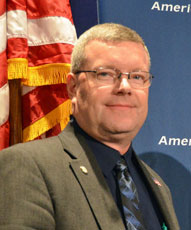 South Dakota crop and livestock farmer Scott VanderWal was elected Vice President of the American Farm Bureau Federation (AFBF) earlier this year and in that role now serves on the board of the U.S. Farmers and Ranchers Alliance (USFRA).
VanderWal is pleased with how USFRA has brought so many agricultural organizations together under one big tent to address consumer concerns about food production. "We start out with the idea that we all have one thing in common and that's an interest in food security and making sure we retain the ability to feed ourselves in this country," he said. "As consumers get farther away from agriculture, they don't realize why we do the things we do."
USFRA has developed a number of programs to help communicate with consumers and VanderWal says the nearly 100 organizations who are part of the alliance benefit from that on the state and local level. "We have about 2800 county Farm Bureaus, so we have a vast network and we can take the materials the USFRA puts together and multiply it many times through various channels," said VanderWal.
Learn more in my interview with Scott here: Interview with AFBF VP Scott VanderWal, South Dakota