Late Thursday evening, the U.S. Senate voted 63-30 to pass the National Bioengineered Food Disclosure Standard that preempts individual state laws to require labeling of foods containing genetically engineered ingredients.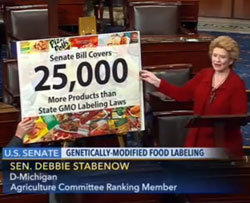 Senate Agriculture Committee Ranking Member Debbie Stabenow spent 24 minutes before the vote laying out logical reasons for the legislation, not the least of which was that it requires the labeling of over 25,000 more food products than the law in Vermont that recently went into effect. "In Vermont, meat, eggs, dairy are exempt – some have called it the Vermont meat loophole," said Stabenow. "You've got a vegetable soup labeled, but if it's beef vegetable, it's not. If there's even beef broth in it, it's not. I don't see how that makes sense."
The bill now goes to the House, which passed a voluntary labeling law last year.
Listen to Stabenow's remarks on the floor here: Sen. Stabenow's floor speech on labeling bill