The Agri-Marketing Conference has come and gone for this year and hopefully everyone has recovered. I think I have.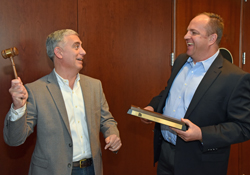 The last item on my agenda for this year's conference, put on by the National Agri-Marketing Association, was to interview the new President, Matt Coniglio, Penton Agriculture. In the photo you can see Matt is real happy to receive the gavel from past president, Marvin Kokes, National Cattlemens Beef Association. Actually, these guys like each other a lot.
Matt says that if he looked ahead at his life twenty years ago he would have never dreamed he'd be on the NAMA platform in this position. We're glad he is. Matt also talks about the NAMA strategic plan and how it is evolving as a blue print for the new president to continue working on. Part of that process was conducting a brand analysis. He says it has created a benchmark for the strategic plan to use to evaluate how the organization is doing. You can see the first fruits of that in a video here.
Learn more about what's going on with NAMA in this week's ZimmCast: ZimmCast with Matt Coniglio, NAMA President