There were lots of winners in the Bayer LibertyLink® Real Yield Game that you might recall us promoting at the end of last year.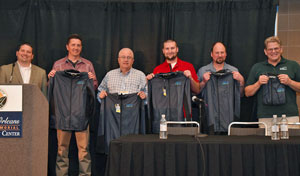 Among them were five farmers who were instant winners, receiving 500 acres of LibertyLink soybean seed and Liberty herbicide, and one grand prize winner who gets a year's lease on a John Deere 8320R tractor. Even better, 28 state FFA organizations got a share in $50,000 from Bayer for their help in promoting the game.
All of those winners were recognized during the 2016 Commodity Classic in New Orleans, where we had the opportunity to talk with them and learn how they found out about the game and what winning means for them. And that is the topic of our ZimmCast this week.
Listen to it here: LibertyLink Real Yield Game Winners