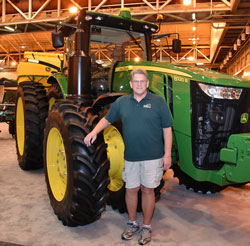 The grand prize winner in the Bayer LibertyLink Real Yield Game was revealed last week at the Commodity Classic to be Rick Juchems of Iowa, who received a year's lease on a John Deere 8320R tractor.
Juchems is a corn and soybean farmer who also custom feeds hogs. He learned about the game from the Iowa FFA Alumni Association and played it because that meant the Iowa FFA would receive a $1 donation each time he played. In fact, so many Iowa farmers played the RealYield game that the Iowa FFA received a check for $7,480 from Bayer.
Juchems says he'll be using the tractor to field cultivate where he's hauled on hog manure. "I'll put it on the no-till drill and I guess this fall we'll haul loads with it," he added.
Listen to an interview with the Real Yield game winner here: Interview with Rick Juchems, LibertyLink contest winner