The number of scholarships presented by BASF Crop Protection and the various commodity organizations at Commodity Classic increases every year. Yea. It's great to see so many young men and women take an interest in agriculture. We were able to interview some but not all of this year's winners – but they are all outstanding.
The $1000 National Corn Growers (NCGA) William C. Berg Academic Excellence in Agriculture scholarships were awarded to five students including: Katie Peterson of Grove City, Minnesota, a sophomore studying political science at Gustavus Adolphus College; and Leah Schwinn of New London, Ohio, a junior studying agricultural communications and human animal interactions at Ohio State University.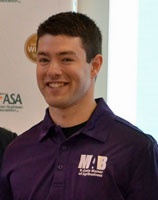 Andrew Lauver of Rockwell City, Iowa, a graduate student studying agribusiness at Kansas State University, was another award winner. He grew up on a grain and livestock farm and received his undergraduate degree from Iowa State. Andrew said he has a great interest in agriculture and after he is done at Kansas State he'd like to study law and serve a rural community. In addition, he'd like to continue as a next generation farmer. Learn more about Andrew Lauver here: Interview with Andrew Lauver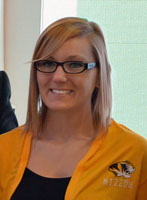 Bethany Mordhorst of Ute, Iowa is  a graduate student studying animal science at the University of Missouri. Her love of agriculture was kindled while growing up by being actively involved in 4-H and FFA and then got her undergrad at Iowa State. With her passion for research she headed to North Dakota State University where she studied the effects of dried distillers grains (DDGs) supplementation on gestating beef cattle. From there she landed at University of Missouri where she is working on her PhD. Learn more about Bethany and her research here: Interview with Bethany Mordhorst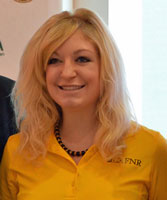 Breanne Brammer of Gallatin, Missouri is a graduate student studying agriculture education at the University of Missouri. She grew up on a livestock farm, and growing up she showed cattle, hogs and horses. Her goal is to teach ag in the classroom and she said she really became inspired after spending time in Africa. While traveling she said she learned how education and international ag really tie together in order to feed the world and educate our growing population. Learn more about Breanne's future here: Interview with Breanne Brammer
Moving on, the National Wheat Foundation awarded $1000 and $1500 Jerry Minore Memorial scholarships. Four students were selected, one of whom has now won all three of the commodity group scholarships, the first person to do so – Caleb Brannon. Two of the winners included Clay Schemm of Sharon Springs, Kansas,  a sophomore studying biological and agricultural engineering at Kansas State University; and Samantha Wander of Bellville, Ohio,  a freshman studying agriscience education at Ohio State University.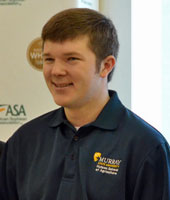 Caleb Brannon of Puryear, Tennessee is a senior studying agribusiness economics at Murray State University in Murray, Kentucky. He's on a role winning his third scholarship. He grew up on the family farm that grows corn, soybeans and wheat, a unique situation for Brannon and one that allowed him to apply, and ultimately win a scholarship from each commodity group. Last summer he had a sales internship with Beck's Hybrids and he said he loved it. When he graduates, he is hoping to go into some type of sales. Learn more about Caleb here: Interview with Caleb Brannon
Logan S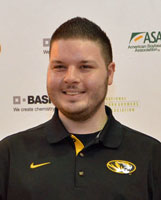 imon of Columbia, Missouri is a junior studying plant sciences at the University of Missouri with an emphasis on breeding, biology and biotechnology. He works with the wheat breeding genetics lab at the University and they are breeding soft red winter wheat with an emphasis on breeding for scab resistance. His intentions are to stay at the University of Missouri and attend graduate school with the ultimate goal of becoming a wheat breeder. Learn more about Logan and his research here: Interview with Logan Simon