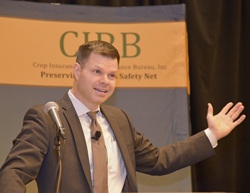 Brandon Willis, an administrator at the USDA's Risk Management Agency, recently addressed the Crop Insurance and Reinsurance Bureau's annual meeting and talked about the changes crop insurance has undergone.
Some of those changes include lower premiums for beginning farmers and ranchers. That group saved $12 million in insurance premiums last year, allowing them to have more coverage than they otherwise could have afforded. New crops have also been added to the insurance program, providing a safety net for more growers.
When asked about changes in the future of the crop insurance Willis was optimistic.
"I think [crop insurance] is going to fare very well because it has a story to tell.  Farmers lives are impacted everyday.  The amount of financial stress many would be going through if we didn't have crop insurance is a story we need to talk more about.  What we often forget about is what would happen if we didn't have crop insurance.  We would have a lot of people who are no longer farmers.  And so I think we have a great story to tell and I think we need to do a better job of telling it."
Listen to Chuck Zimmermann's full interview here: Brandon Willis, Risk Management Agency