The 51st annual National Farm Machinery Show held last week in Louisville, Kentucky featured 880 exhibitors covering 1.2 million square feet of floor space. As the name of the show implies, the focus is on equipment, but FMC Corporation has continued to increase its presence at the show about the past 30 years, making the company really standout to exhibitors, media and attendees.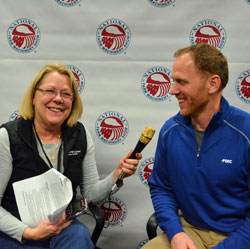 During the show, I sat down with FMC portfolio manager Rick Ekins to talk about why they have made NFMS a priority show through such activities as sponsoring the media room and exhibitor lanyards and hosting customer receptions. "We're happy that we've been able to increase our presence here," Rick says. "This is where you engage face to face with growers, with customers. This is where you get to establish connections with other businesses that help us carry some of our projects forward."
FMC's decision to sponsor the NFMS media room a few years ago gave it a real upgrade and allowed the show to provide an even better working environment for the media than ever before – which we really appreciate!
Listen to this week's ZimmCast here: ZimmCast from #NFMS16 with FMC