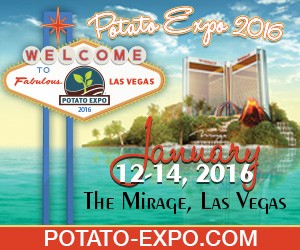 It is potato time in Las Vegas. I'm off to my first Potato Expo courtesy of Nufarm.

The potato industry is gathering for the biggest event of the year: Potato Expo 2016. Join world class experts in potato production, research and marketing to discover new ideas and share business solutions with growers from across the globe. Catch the excitement in Las Vegas!

I just downloaded the Potato Expo Guide App to my iPhone 6S Plus. Get it to see what's going on.
One of the first events I'll be attending is the first SPUD NATION THROWDOWN COOK-OFF. That will be held tomorrow afternoon. The live competition features the top three finalists of a nationwide recipe contest for food truck chefs. The winner will be named Top Spud and walk away with $5,000!
So, baked, fried, grilled, roasted, sliced, diced, mashed, however you cook 'em, this sounds like it will be a tasty meeting.
Follow #PotatoExpo to see what the tweeters see.