If you have been listening to farm radio at all in the last couple of months you have probably heard the Real Yield radio spots that have been running featuring real farmers from around the soybean producing part of the country talking about their experience with the Bayer CropScience LibertyLink system.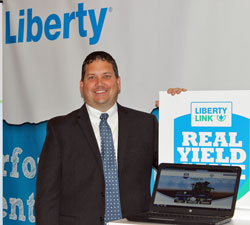 In this edition of the ZimmCast, we talk with Malin Westfall, Bayer CropScience soybean marketing manager, about the the LibertyLink system and the goals of that campaign. Part of the campaign included the Real Yield Game, which gives farmers a chance to win some great prizes and support the FFA at the same time.
Every time growers play the game they have a chance to instantly win a John Deere combine, five winners get a year's supply of LibertyLink soybeans with Liberty herbicide, and the grand prize is a year's lease on a John Deere tractor. Winners of the game will be announced at the 2016 Commodity Classic in New Orleans and the donations to FFA will also be presented at that time.
Listen to this week's ZimmCast here: ZimmCast with Malin Westfall, Bayer CropScience
ASTA CSS 2015 and Seed Expo Photo Album