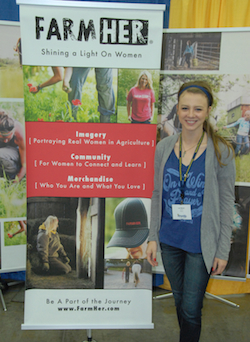 Lexi Marek attended the National FFA Convention representing FarmHer— an organization created to change the image of women in agriculture.  Marek is interning with the company and she loves how her job lets her inspire other young women in the industry.
"The most amazing thing I've seen is women just being inspired by our booth and that is just the best. When they come up and say 'Thank you. Thank you for doing this. Thank you for realizing that woman are a part of agriculture and they are just as important as men are,' " Marek says.
Marji Guyler-Alaniz, President and Founder, started FarmHer two and a half years ago in response to the lingering idea that farmers are always men.  As a photographer she puts her skills to use taking pictures of women on the farm.
But the photos are just one aspect of the business.  Marek's area of responsibility is the community they are creating for women to connect to one another.  Men and women can sign up to be part of this growing network.
"Its all about giving women a place to talk to each other and encourage each other to make a difference in the world," she explains.
Listen to the full interview and catch Lexi's excitement! Lexi Marek, FarmHer
Find photos from the event here: 2015 National FFA Convention Photo Album