Colin Bletsky, Vice President of BioAg, Novozymes was a participate in the panel discussion following the 2015 Gap Report release during World Food Prize. In an interview, he says that Novozymes came on board with Global Harvest Initiative because the company has a mission to help develop sustainable technologies. Bletsky is also passionate about this mission in his role as a farmer from eastern Saskatchewan in Canada.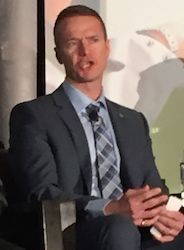 He says that to see a farmer from anywhere in the world smile because he had a good crop, a better yield than the year before, it makes him smile. Novozymes, he stresses, wants to bring technologies to people to help them.
Novozymes main work is on developing agricultural biological products, or in other words, naturally occurring organisms found in the soil. They ferment these microbes and sell them as seed treatments, folio applications or as a topical on soil. What these ag biologics do is help nutrient efficiency or nutrient uptake. They also help with root and plant health, plant growth as well as mitigating insects, disease and weeds.
Bletsky notes there is a huge gap in understanding about biologicals in ag and a strong need to educate farmers around the world on their benefits.
Bletsky says their main focus right now is around fertility enhancement. Their products are another tool in the toolbox to help farmers produce more with less. They currently sell their biologics in 42 different countries and are continuing to take their technologies to other farmers around the world. "If we can help a grower reduce his cost by putting our microbe in and produce more, we're happy."
Learn more about ag biological products' role in improving productivity in my interview with Colin Bletsky: Interview with Colin Bletsky, BioAg Novozymes
2015 World Food Prize photo album.
Coverage of the World Food Prize Global Harvest Initiative is sponsored by