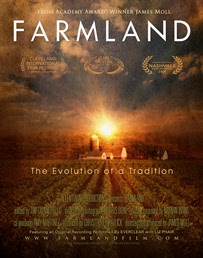 School's back in session, and the lessons of agriculture are being brought to some of the nation's most prestigious universities in the form of the movie Farmland. The National Corn Growers Association (NCGA) says the movie, produced with the generous support of the U.S. Farmers and Ranchers Alliance, of which the National Corn Growers Association is a founding affiliate, will be shown along with panel discussions at Columbia University in New York, Tulane University in New Orleans and the University of Southern California in Los Angeles. Screenings without panel discussions are planned for four other locations.
"It's great to see FARMLAND being screened at these universities not traditionally tied to agriculture," said Missouri farmer and NCGA Corn Board member Mike Geske, who also sits on the USFRA board's executive committee. "The documentary's important stories about the challenges facing today's young farmers can help those who aren't involved in farming understand the importance of their work and the passion and concern they put into the food they produce."
The action starts Sept. 10 at Tulane, where the film will include a panel discussion with area farmers and a campus representative, on issues raised in the film as well as focusing on the strategies of farming and sustainability, under the theme, "The Art of Farming."
Next, a Sept. 14 screening at Columbia looks at farming not as an art, but as a science. On campus that week, there are various information sessions and talks occurring on campus on the earth, environmental science and sustainability. Using this moment in time, highlighting the focus of environmental studies and sustainability will help bring awareness around the film and panel discussion.
Finally, on Sept. 21, Academy Award-winning FARMLAND director James Moll will join a panel at the University of Southern California to focus on issues raised in the film as well as the making of the film and career opportunities in agriculture and film production.
Boston University held a screening with a panel last week, and Vanderbilt University, in Nashville, Tennessee, has one on Sept. 15; Sept. 16, University of Florida, Gainesville; and Sept. 30, Georgetown University, Washington.