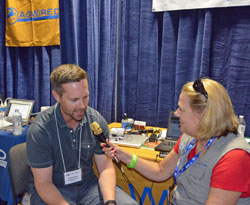 Farm Progress Show is in the Congressional district of Rep. Rodney Davis (R-IL) and he stopped by Wednesday to visit.
"I'm blessed enough to represent Decatur and host this event every two years," said Davis. "You got billions of dollars of equipment sitting out here. It really shows what agribusiness and agriculture means, not only to Illinois and Iowa, but the entire Midwest and our entire national economy."
Congress is on break now, giving Rep. Davis a chance to catch up with his constituents – and let his facial hair grow out! We talked about some of the important issues for agriculture that the House has already acted on but the Senate has yet to. That includes GMO labeling, WOTUS and COOL.
Listen to my interview with this outstanding friend of agriculture in Congress – Interview with Rep. Rodney Davis (R-IL)