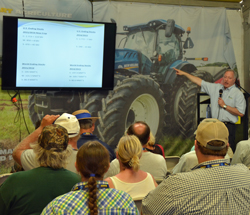 New Holland invited several speakers to give presentations at their "Club Blue" event for customers and dealers at the Farm Progress Show, one of them being Mark Gold of Top Third Ag Marketing. He spoke to customers on his market outlook and on current risks in the market.
Gold is optimistic about the market, but emphasized how important it is for farmers to look at marketing more carefully.
"The message I have today is that there is still some risk here. With everything that's happening in China, in the crude oil market, we could see lower prices yet, but we'll see," he said in an interview with AgWired before the event.
Despite how low commodity prices still are, Gold has a positive outlook on the market looking into the future, and sees the market's current state as a wonderful opportunity for investors.
"This is a great time in my opinion to get into agriculture, to expand. Today you've got an opportunity to buy land a little cheaper, cash rents are coming down. I want to sell things when they are a lot more expensive. And I think that's coming down the road, it may be a while, but hopefully in the next six months we'll see this thing turn around."
He explained that risk management is farmers' key to smooth maneuvering through the cycles of the market: "When you've got good prices, don't try to only manage that year, but maybe the next two or three years because the markets are cyclical, so what goes up will go down, and what goes down will come up. The market doesn't care what the cost of production is, the economics and the supply and demand still rule these markets."
Gold's final message for farmers? Quit trying to outguess the markets.
"Quit listening to any of the marketing gurus, including myself, who make predictions about where markets are going. What you want to do is look at the price, put in a floor, protect it if it goes down, be able to sell grain if it goes up, and quit listening to all the nonsense that's out there."
Listen to Chuck's interview with Gold here:
Interview with Mark Gold, Top Third Ag Marketing