You might remember that Missouri Farm Bureau held a "Ditch the Rule" press conference last year at the State Fair featuring three members of the state's Congressional delegation. With the controversial rule now finalized and scheduled to be implemented August 28, MOFB held another press conference at the fair last week – this time with four members of Congress.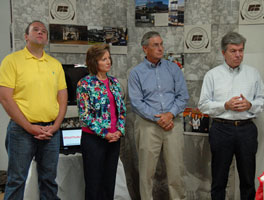 Representatives Jason Smith, Vicky Hartzler, and Blaine Luetkemeyer – all Missouri Republicans – joined Sen. Roy Blunt (R-MO) and others at the MOFB building at the fair last Thursday to talk about what can be done to stop the EPA's Clean Water Rule.
"Hopefully at the end of the day we can not fund it and give people more time to think about it," said Blunt, referring to appropriations amendments targeting the agency. "There's certainly a great opportunity that a court will eventually decide the government couldn't do it, but by then a lot of the damage is already done."
Several lawsuits are pending over the rule and Luetkemeyer believes EPA will lose. "The Clean Water Act is a law and they are trying to change law by rule and they can't do that, that's not legal," he said.
Hartzler, a member of the House Agriculture Committee, sponsored a bill which passed the House that would force EPA to rescind the rule. "Unfortunately it's sitting there in the Senate, but we're going to try to stop this in other ways," she said.
It was the young Congressman from southern Missouri, a farmer who was elected to office in a special election two years ago, who got the big applause at the press conference. "You saw that river in Colorado – think about three million gallons of toxins going into the river, how much are they going to be fined?" said Rep. Smith. "Maybe I'm a little bit radical being a little bit new, but pretty fine with the EPA just being disappeared, (not just unfunded) but eliminated."
MOFB released a new interactive map at the fair press conference that shows 99 percent of the state's total acreage will be subject to EPA jurisdiction under the rule. "The maps illustrate what we have suspected for some time – EPA is radically expanding its authority to the detriment of farmers and anyone who works on the land," said MOFB president Blake Hurst. American Farm Bureau economist Veronica Nigh explained the map during the press conference.
Listen to the whole press conference here: MO Farm Bureau WOTUS press conference
View and download photos from the event here: MO Farm Bureau WOTUS Press Conference Photos