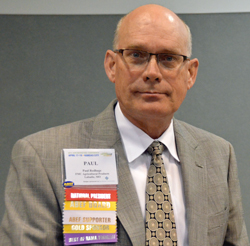 The National Agri-Marketing Association (NAMA) has selected Paul Redhage as the 2015 NAMA Marketer of the Year. The photo is of him during his year as NAMA President.
This recognition is the most prestigious honor awarded to an active member of the association and honors outstanding accomplishments in the field of agri-marketing. For more than 50 years NAMA has been encouraging and promoting excellence in the industry by recognizing outstanding professional accomplishments. The NAMA Marketer of the Year award will be presented during the Second General Session of the 2015 Agri-Marketing Conference, on Thursday, April 16, in Kansas City, Mo., and is sponsored by Agri Marketing magazine.
Until his retirement in January, 2015, Redhage served as Strategic Communications Manager for FMC Corporation. FMC is a diversified chemical company serving agricultural, industrial and consumer markets around the world. He was a key contributor in making Authority® herbicide a leading brand in the soybean pre-emergent market and also helped elevate Authority as a "Top of Mind" brand in pre-emergents.
Redhage has distinguished himself amongst his peers throughout his career and has been recognized for his accomplishments. In 2012, he received the University of Missouri Ag Alumni Citation of Merit. He also received the NAMA Dilworth Award for Innovation in 2007/8, and was awarded NAMA Marketing Communicator of the Year in 2008/9.
Redhage's professional experience includes crop protection products, animal health, livestock feeds, agricultural fertilizers and food manufacturing. Prior to joining FMC, he served as Communications Manager at BASF from 1990-2002, Senior Account Supervisor at Brighton Advertising from 1989-1990 and kicked-off his career as an Account Supervisor at Kenrick Advertising from 1985-1989.
Redhage has also has been deeply involved and made significant contributions to the development of NAMA, especially during his year of service as National NAMA President in 2013. His outstanding campaign work with Capture LFR won Best of NAMA awards in 2012/13, and Authority was awarded Best of NAMA for ad campaigns in 2013.
For a number of years Redhage served as a senior judge for the prestigious Student NAMA Marketing Competition. He excelled in this role, in large part because of his passion for mentoring young professionals, but also because of his desire to "give back" to the industry he loves. He consistently received high marks from the students for his thorough consideration, his insightful questions and his fair criticism. This example demonstrates his exemplary character, contribution to the industry and passion for innovative marketing that sets him apart from his peers.