John Deere sponsored an ag policy panel at the 2015 Commodity Classic, moderated by our friend Sara Wyant with Agri-Pulse, and featuring the policy specialists from the American Farm Bureau Federation (AFBF) and National Farmers Union (NFU).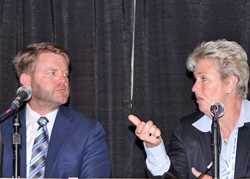 With trade being a top issue on Capitol Hill right now, NFU's Chandler Goule and AFBF's Mary Kay Thatcher voiced their respective organizations' differences of opinion on Trade Promotion Authority.
"We're very strongly supportive of both Trade Promotion Authority and the Trans Pacific Partnership," said Thatcher. "Every president since 1974 has had Trade Promotion Authority," she added, but she acknowledged that Congress is still a few votes short of getting it approved.
Goule says NFU has long opposed TPA, or what is sometimes called Fast Track Authority. "It's for a philosophical reason," he said. "The Constitution says Congress has the right to enter into trade agreements…if you pass TPA you are signing away your constitutional authority to one person and that is the president."
Thatcher and Goule addressed a number of other issues, such as farm bill implementation and the Renewable Fuel Standard, and our intrepid intern Taylor Truckey interviewed both of them after the panel about their viewpoints.
Classic15 Interview with Mary Kay Thatcher, AFBF
Classic15 Interview with Chandler Goule, NFU