President Obama's proposed budget released today would combine USDA's Food Safety and Inspection Service with Food and Drug Administration (FDA) and other agencies' efforts into a single agency under Health and Human Services (HHS).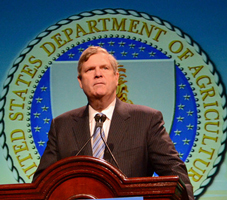 Agriculture Secretary Tom Vilsack spent much of a 45 minute press conference about the budget talking about and defending that proposal. "What the president is asking for is the ability to reorganize," said Vilsack. "We want to make sure that we have as effective and efficient a system as possible."
Answering questions from Washington journalists about whether food safety would be better handled by USDA, or if HHS was the best agency for the job, Vilsack said it wasn't a "turf issue."
"The point is, you're going to have a better food safety system," he said. "You all are asking questions in the old way of thinking. This is a new way of thinking … at the end of the day we're focused on food safety."
Pressed for details about the reorganization, Vilsack said Congress needs to act first to give the president the authority. "The bottom line is that we've got 15 different agencies involved in food safety," said Vilsack. "The point of this is to get this on the table so people can have a conversation about it."
Secretary Vilsack answers reporter questions on 2015 budget
Vilsack outlined USDA's $156 billion share of the $4 trillion Obama budget proposal, which is three percent more than last year but includes a $1.6 billion cut in the crop insurance program.
Secretary Vilsack outlines 2015 administration budget for USDA