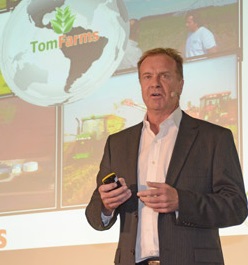 Farmers face a diverse world of challenges today, and that requires a diverse toolkit of solutions. During the recent Bayer CropScience Corn and Soybean Future Forum in Frankfurt, Germany, attendees of the event came from all over the world – from war-torn regions, such as Ukraine, to over-regulated areas of Western Europe, each bringing their own issues.
"So the solution for everybody is going to be different. We just wanted to stretch their minds, let them understand the technologies that are available to us as farmers today," Kip Tom with Tom Farms LLC told Chuck during an interview. During his presentation, "Successful Farm Management in a Future Digitalized Farming World," he said he noticed a lot of looks upon the audience members' faces that indicated some doubt they could make the technological leaps necessary. "I think a lot of them with the innovation and drive that they have to focus on solutions, they will get there."
Kip went on to say that having good connectivity in rural areas – how well farmers on their tractors can communicate with traders in office buildings hundreds of miles away, as well as within their own operations – will be a big factor in how well producers all over the globe are able to use the precision agriculture tools available. He added that it comes down to education. "We've got to have a workforce that understands how to use these tools if we're going to get good information from it."
He concluded saying that all farmers are charged with taking care of the resources the earth gives them to make sure the next generation of producers can continue to feed the world.
"We may think we own the land, but in the end, we're all tenants," Kip said
Listen to Chuck's interview with Kip here: Interview with Kip Tom with Tom Farms LLC