What is an AgCatalyst? In this week's ZimmCast Roger Reierson, AdFarm, is going to tell us.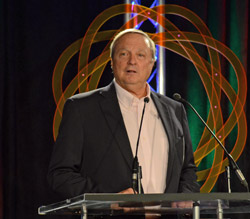 AgCatalyst is a two day conference where marketing and communications professionals learn how to solve agribusiness challenges and create opportunities by using digital social communications tools and strategies. Presenters include agribusiness and food industry experts and some completely outside the industry.
Roger says that for AdFarm, AgCatalyst is about engaging clients and interested people in becoming advocates for the advancement of agriculture. This is necessary because of the challenges that the agriculture industry faces in not only feeding a growing population but doing so in the face of increasing mis-information in the general public. He firmly believes that attendees here and employees at AdFarm can be a "catalyst" to help people understand agriculture and its role globally.
Roger also announced a new awards program, the AgCatalyst Award. Attendees at the AgCatalyst events are encouraged to nominate someone and the first recipients will be presented at next year's conference. The AgCatalyst Award is meant for individuals in rural America who are doing an outstanding job of moving agriculture forward. Several awards will be presented and the recipients will be invited to speak at next year's event.
Listen in to this week's program here: Become an AgCatalyst