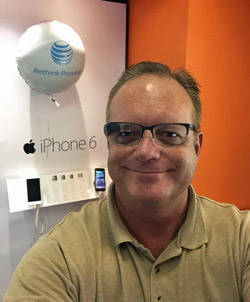 This Apple AgNerd is equipped with the latest gadget to document what's new in the world of agribusiness! Here's my first iPhone 6 Selfie in my local AT&T store.
I was only in line a little while before getting my first look and touch with the new iPhone 6 models. The Plus is just too big for me but not as bad as I thought it would be. The store sold out of them before I even got inside!
Using ZimmGlass I shot a video clip of the in-store unboxing and set up. It doesn't take long to be ready to walk out the door with a working iPhone. However, I now have it backing up from my iTunes library.
First impressions are that the device feels light and thin just as advertised. I'm only putting a screen protector on it for now. This size still fits my hand very well which I like. I just upgraded to iOS 8 last night so I have not had much time yet to try out all the new features including on the new iPhone. The screen is beautiful and I'm going to love the camera! Speaking of the camera, it does protrude slightly from the back of the device. That's different and I guess time will tell if that causes any issues. So, I'm loving it and will let you know more when I've had time to work with it.