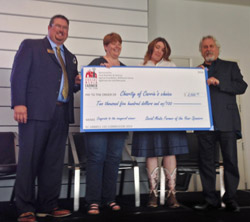 Big time congratulations to Carrie Mess, known as Dairy Carrie, for receiving the first ever Social Media Farmer of the Year Award. The award is presented by Food Nutrition & Science and AgWired is one of the sponsors of this award. Carrie received her award at this weeks AgChat Cultivate & Connect Conference in Austin, TX. Her award includes a $2,500 donation to a charity of her choice.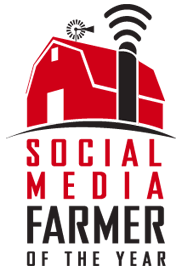 Sponsored by leading food industry publication Food Nutrition & Science, this award recognizes farmers who have incorporated social media, digital media and internet strategies to achieve their business objectives including growing revenue, sharing information for more effective farming practices, and promoting positive awareness of the industry.
"Carrie has clearly used social media as a tool to help promote her farm, the industry and also as a platform for social change," says Phil Lempert, editor of Food Nutrition & Science. "This is our first award and she's a stellar example of how farmers can use social media to educate the industry and consumers and make change."

Mess and her family run Mesa Dairy, a Lake Mills, Wisconsin-based dairy and crops farm with 100 milking cows, 120 young stock and 300 acres of crops. She initially began using social media to connect with other farmers around the country. Today, she posts three times daily promoting her business and sharing snapshots of farm life. She also uses social media for social initiatives. In 2011 during a drought, Mess solicited donations from Wisconsin farmers to fund seven semi-loads of donated hay to farmers in Oklahoma and Texas.
In addition, after an open letter to a corporate restaurant chain in her blog, The Adventures of Dairy Carrie (www.DairyCarrie.com), the company removed a marketing campaign that many farmers found offensive and now has aligned with an agricultural organization. Her blog has grown from 55,000 page views in 2012 to more than 1.1 million in 2013 and articles have been picked up by Huffington Post, The Guardian and local news stations.

The Social Media Farmer of the Year Award also is being sponsored by Monsanto, Bolthouse Farms, AgChat Foundation, Inc., and AgWired.com.