Have you ever wondered if throwing money at your employees as rewards and retention strategies are really working? Well wonder no more – they don't. The attendees of the AgCareers.com annual 2014 HR & Food Roundtable learned what some better strategies were for reward and retention from Ann Bares with Altura Consulting Group. Here presentation focused on Reward and Retention: What Really Matters.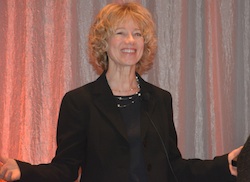 Bares began her presenting by noting that retention is a double-edged sword. Companies do not want to automatically retain all employees especially today as companies struggle with limited funds. She noted that not every employee may be a good fit for the business and have the right skill sets going forward.
"We have to admit to, own to and learn to be more careful, strategic and selective in how we retain," said Bares.
It is important, said Bares, to have a retention strategy. She said a retention strategy determines who we need to retain and how we go about doing that. Also, companies need to know enough about their business to understand what skills are needed to succeed.
An effective way to build your retention strategy is to understand the skill sets of your employees. But Bares said virtually no leaders know this information.  Here are five questions leaders should know the answers about your key employees:
What are their proudest accomplishments and biggest disappointments? Why?
What activities energize them and drain them?
How would they force rank the following rewards: financial gain, power and influence, lifestyle, autonomy, affiliation, intellectual challenge, competence, recognition, other?
What do they want their legacy to be?
What is their five-year career goal?
Bares said once leaders know these answers, they can better develop an effective retention and reward strategy. Interested in learning more? Bares blogs at Compensation Cafe. Check it out.
Learn more about reward and retention strategies by listening to my interview with Ann Bares: Interview With Ann Bares
View the 2014 AgCareers.com HR & Food Roundtable photo album.