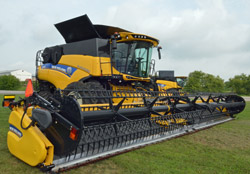 Introducing the first and only New Holland CR10.90 combine in North America. For the moment anyway. This bad boy will be on display at shows like Farm Progress. It is a monster of a machine. This one was on display for ag media with a draper head.
Telling us all about it is Nigel Mackenzie and he gets very whomped up when it comes to these machines. I put ZimmGlass through a workout during last week's New Holland Media Day. This was my first video of the day and I've got more to come, including riding around a track in a new combine. I recently spoke to Nigel about the combine launch by phone. The media day gave me an opportunity to see it up close and personal. Here's a little information about the new products.

New Holland has just upped the stakes for harvesting ease and capacity with the all-new CR Series combines—the most powerful Twin Rotor™ combines ever. Six models range from 401 to 652 maximum engine horsepower. All feature fuel-efficient ECOBlue™ HI-eSCR engines which are Tier 4B compliant. The flagship CR10.90 boasts the Diesel Engine of the Year 2014 which delivers epic power and in-field response. The new Dynamic Feed Roll™ system—the on-the-go, no-interruption stone trap—increases capacity by accelerating crop into the rotors.

To learn more about the new CR combines, especially the CR10.90 listen in or watch Nigel tell us all about it.
Listen to Nigel's presentation here: New Holland CR10.90