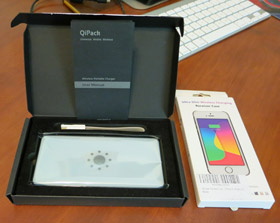 What's a QiPack? Funny you should ask. I just happen to have one and used it on the road last week. It's pronounced Chee-Pack btw. Here's how the company describes it.

What is QiPack
Introducing the best solution to charging on-the-go – QiPack, the wireless charging pad and battery backup all in one
Universal Power
Power your iPhone, Motorola Droid, Nokia Lumia, Samsung Galaxy, Google Nexus, LG Lucid, HTC Droid DNA and more anytime, anywhere

Wireless Power
Forget tangled cables and bulky adapters, QiPack powers up your Qi-enabled device with innovative wireless charging
Mobile Power
Charge up your Qi-enabled phone quickly and wirelessly right in your pocket or purse without having to plug anything in

Portable Power
QiPack is an all-in-one inductive charging pad and 3000mAh backup battery for easy on-the-go charging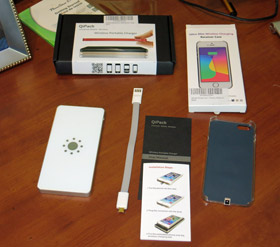 I think by now y'all are quite familiar with power banks, those small mobile chargers that are the latest craze at trade show booths. So far most of them require you to plug your gadget into them with your sync cable. Not the QiPack. Although you can plug into it if you want. One of its best features is the wireless charging capability.
QiPack got its start as a successful Kickstarter campaign and is now in production. I sent them some money early on and got mine before my last trip. So I charged the QiPack and stuck it in my MOJO (mobile journalism bag) and took off.
This photo shows you what I received and after the traditional "unboxing ceremony." The device is on the left and you can see its charging cable along with an iPhone case.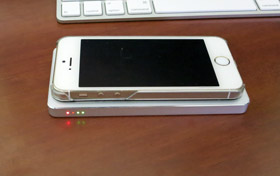 Why an iPhone case? Good question. This is probably the only negative I have found. iPhones require a little inductive charging coil to work with the QiPack. That is hidden in the case. So, in order for me to use the QiPack wirelessly my iPhone has to be in this case. The case has a little plug that goes into the iPhone cable jack. It's a very minimalist design of clear plastic. I actually like the case but then, what do I do with my other case? It's very easy to put on and take off though. If you don't want the case with the coil though, you can order just the coil and it can be used with your existing case. Maybe I should have selected that option.
With the case on I charged my iPhone 5S two different times while traveling. It works quite well and still has a little charge left. The QiPack comes in different colors and is available for pre-order now.
You've probably seen power mats that wirelessly charge devices but most of them have to be plugged into a power source to work so they're most useful in an office or room in your house. I think we'll see more of these (I already have) coming out and hopefully Apple will keep this in mind for future iPhone launches.