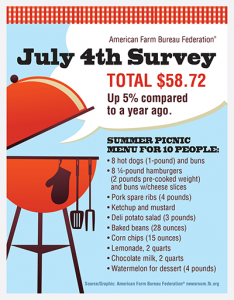 While you are celebrating our nation's birthday this weekend, take a minute to be thankful that your 4th of July feast is safe, abundant and affordable. Where else in the world can you gobble up hot dogs and hamburgers, ribs, potato salad, baked beans, and more for less than $6 a person?
The American Farm Bureau Federation tallied up the cost for an all-American Fourth of July picnic for ten people – including hot dogs, cheeseburgers, pork spare ribs, potato salad, baked beans, lemonade and chocolate milk. The bottom line is slightly more than last year, but at $5.87, it's still an all-American bargain.
Farm Bureau's informal survey reveals the average cost for a summer picnic for 10 is $58.72, or $5.87 per person. That's about a 5-percent increase compared to a year ago. "Despite some modest price increases over the past year or so – meats, especially – most Americans should be able to find summer picnic foods at prices close to the averages found by our volunteer shoppers," said John Anderson, deputy chief economist at AFBF.
"Retail meat prices are higher compared to a year ago because the nation's cattle herd is now at a historically small level," Anderson said. "The total number of hogs farmers across the nation are raising is also down, which has contributed to higher retail prices for pork products."