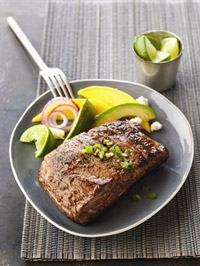 Summer is heating up and it's time to celebrate our Independence Day! So, what will be on your grill? Need some ideas? How about these?
Pictured is Spicy Grilled Ribeye Cap with Avocado-Mango Salad. You'll find plenty of beef ideas at Beef It's What's For Dinner.
How about some Beer Grilled Chops from Pork, Be Inspired?
Maybe some Curry-Lime Chicken Thighs with Tomato-Lima Bean Salad from EatChicken.com?
Here's a good one. Thai Grilled Shrimp from AboutSeafood.com.
You can't beat some Venison Osso Buco from Outdoor Life.
One more. Grilled Lamb Loin Chops with Orange & Olive from American Lamb.
That ought to give you some ideas to get your Independence Day grill on.