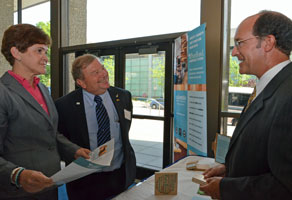 North Carolina-based Columbia Forest Products was ahead of the curve a decade ago when it moved to formaldehyde-free hardwood plywood technology.
"We make flat, decorative panels with a highly-prized face like a cherry, oak, walnut," explains marketing director Todd Vogelsinger. "And we glue it all together with a resin system that is 95% soy flour." The company replaced the commonly used urea formaldehyde-based resin with the soy-based product to give them a green edge in the competitive wood products market.
The company was one of several with soy biobased products on display at the United Soybean Board Biobased Products Stakeholders Dialogue last week in Washington DC. "We're becoming a lot more aware of the advantages of claiming the biobased element of our product," said Vogelsinger who added that they took part in the event so they could learn more about government programs that can help them find additional markets for their high quality products.
Vogelsinger is pictured here (right) talking with USDA Deputy Secretary Krysta Harden and USB director and Ohio farmer John Motter. Interview with Todd Vogelsinger, Columbia Forest Products