Two farmers got to discuss food on the panel for the USFRA Food Dialogues in Chicago this week. I visited with them and am sharing my conversations in this week's ZimmCast.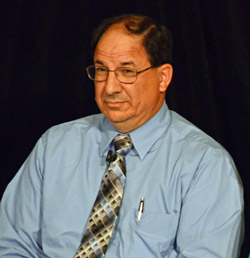 First up is Chuck Wirtz, a pork producer from Iowa. With the topic being "Integrity in Food Marketing" I wondered what that meant to the panelists so I asked him.
He says, "To me integrity is an adherence to moral and ethical principals and as production systems differ and as marketing products differ we have to make sure that everybody is being truthful in what it is that they're telling."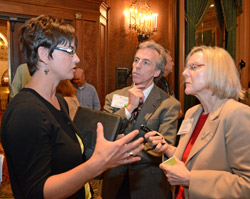 The other farmer participating in the Food Dialogues is Dawn Caldwell, a family farmer from Nebraska, seen here being interviewed after the program. I also asked her to describe what the topic of the discussion means to her.
She says "To me it's something very factual, very black and white and concise." She noticed that a couple of the panelists brought emotion into the discussion but enjoyed hearing other opinions.
Listen to this week's program and hear more about what these farmers had to say about their experience on the Food Dialogues panel here: Farmers Dialogue About Food
Thanks to our ZimmCast sponsor, GROWMARK, locally owned, globally strong, for their support.

Subscribe to the ZimmCast podcast here.