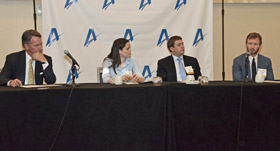 The first panel discussion of the 2014 Animal Agriculture Alliance Stakeholders Summit focused on millennial staffers on the hill. Moderating the discussion was Chandler Keys, The Keys Group. The panelists each spoke first with ideas for approaching elected officials effectively, especially since the first step is often with a millennial generation staffer like themselves. I selected a quote from each of their comments to share.
First up is Grant Colvin, Policy Analyst for the Senate Committee on Agriculture. He says when visiting with your elected officials not to "overthink it." He often sees people coming in with a chip on their shoulder and even using hostile language. He suggests using some finesse and sensitivity.
Grant Colvin
Next is Joe Williamson, Legislative Director for Congressman Cory Gardner, CO. He says he had to learn about farm policy on the fly when he got into his position and that the only way to reach millennials is to "dumb it down." Simplify the message because a lot of people don't have the background in agriculture that you do.
Joe Williamson
Then we heard from Alexandria Igleheart, Legislative Assistant for Congressman Mac Thornberry, TX. She is a numbers person and says you can't argue with numbers. So have some good local data for the district of who you're visiting with. She also says to start small by building a relationship and realize that things don't often move fast on the Hill.
Alexandria Igleheart
2014 AAA Stakeholders Summit Photo Album