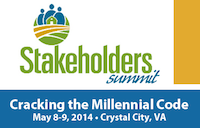 The Animal Agriculture Alliance announced that famed author Jeff Fromm will be the keynote speaker at the Stakeholders Summit, to be held May 8-9, 2014 in Crystal City, VA. Early registration is now available for the Alliance's 13th annual capstone event, themed: "Cracking the Millennial Code."
Fromm holds a marketing degree from The Wharton School at the University of Pennsylvania and has more than 25 years of brand marketing and innovation experience for Hallmark, KC Masterpiece BBQ Sauce, Build-A-Bear Workshop and other brands.
Author of "Marketing to Millennials: Reach the Largest and Most Influential Generation of Consumers Ever," Fromm spearheaded the millennials research partnership with The Boston Consulting Group and Service Management Group. Fromm is also the Founder of ShareLikeBuy, a Millennial Insights & Consumer Trends Conference, contributor to Forbes, AdAge and PSFK, co-author of numerous consumer trends reports including "Millennials as New Parents: The Rise of a New American Pragmatism" and editor of a blog, www.millennialmarketing.com.
"We're excited that we were able to secure such an esteemed expert for our Stakeholders Summit—someone who's able to present verifiable research about the importance of connecting with millennial consumers," said Alliance President and CEO Kay Johnson Smith. "I think our audience will greatly benefit from his insights into the relationship between millennials and food."
The Summit is attended by a diverse group of farmers, ranchers, food processors, restauranteurs, grocery store marketers, legislators, universities and government agency representatives.
As always, the Alliance's Stakeholders Summit will be social! Be sure to follow the hashtag #AAA14 for updates about the event. For more information on registration visit the Summit website. For general questions about the Summit please contact summit@animalagalliance.org or call (703) 562-1411.