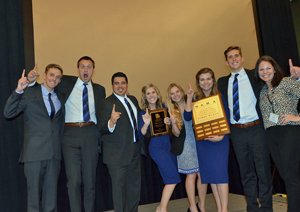 Six outstanding student NAMA teams made it to the final round of the competition last week and the final winner was California Polytechnic State University – Cal Poly.
Congratulations to the teams from Illinois State University, Michigan State University, Iowa State University, University of Florida, and to the University of Illinois at Urbana-Champaign. It was a great competition this year as always with lots of up and coming talent for the agri-marketing industry!
The students had some fun before the awards ceremony began, until the adults broke it up – watch the video below and find out what order the other five finalists in the competition finished.