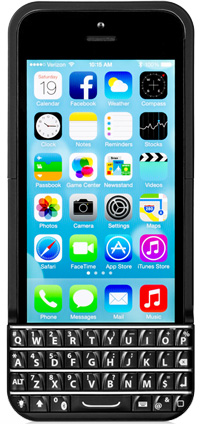 My agnerd order has been placed for a Typo Keyboard for my iPhone 5S. I am eagerly waiting for it. Why? Because I like typing on real keys. I've become "better" at typing on the virtual keyboard but . . .
Typo has apparently pissed off Blackberry though. For some reason they think they "own" the physical keyboard. Last week a judge ordered a preliminary injunction to restrict sales of Typo keyboards but they are still for sale ($99).
I'll write a review of the device after I have a chance to use.
Here is what the claims are:

Type Faster w/Less Typos – Users report typing 50% faster and with less Typos – Touch keyboard brings back 40% more screen space for typing
Full Backlit Keyboard – Backlit Keyboard for typing in low light environments
Battery Indicator – See how much battery you have at any time
Quick Currency Keys Access – Quick access to all your most necessary currency keys
TYPO smart Typing – Custom TYPO Smart Auto-Correct Enabled

You can order one here.