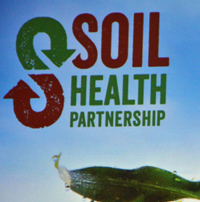 Since the health of a farm depends largely on healthy soil, the National Corn Growers Association (NCGA), with support from the Walton Family Foundation and Monsanto, recently announced the formation a new Science Advisory Council and the Soil Health Partnership (SHP).
During a press conference at the Commodity Classic, members of the partnership discussed plans to help farmers enhance soil health and introduced the initiative's first demonstration farmers – Bill and Tim Couser of Nevada, Iowa. NCGA vice president of production and utilization Paul Bertels, Monsanto sustainable business solutions lead Michael Doane, and Sean McMahon, North American agriculture program director for The Nature Conservancy, also took part in the discussion.
SHP's ultimate goal is to measure and communicate the economic and environmental benefits of different soil management strategies; and provide a set of regionally specific, data-driven recommendations that farmers can use to improve the productivity and sustainability of their farms. Over the next five years, SHP will work to aggregate regional data to catalyze a platform for knowledge-sharing from farmer to farmer to create a set of best practices to improve soil health.
Listen to the full Soil Health Partnership press conference here: Soil Health Partnership Press Conference
Interview with Tim and Bill Couser: Bill and Tim Couser Interview
2014 Commodity Classic Photos