One session at the Bayer Crop Science Ag Issues Forum last week called 2014 the "Year of Food and Farmers" talked about an upcoming National Geographic series and a documentary movie – both featuring agriculture.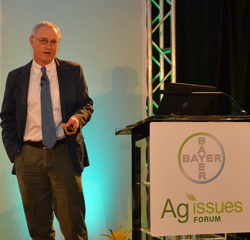 Dennis Dimick, Executive editor, Environment for National Geographic, shared their exciting plans for the eight-month series focused on food and agriculture, beginning in May. Dimick spoke about our growing population and how our need for food is the single biggest threat to the environment that we face today. "There is a growing need to recreate the connection to the production side of where food comes from," he said. Dimick says the series will include topics such as farming the sea, malnutrition, genetics and how diets have changed over the course of time.
You can listen to my interview with Dennis here: Interview with Dennis Dimick, National Geographic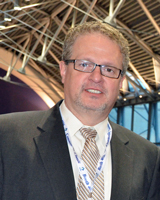 Joining the discussion with Dennis was Randy Krotz, executive director of U.S. Farmers and Ranchers Alliance, who talked about Farmland: The Movie and showed a couple of clips. The documentary offers first-hand glimpse into the lives of young farmers and ranchers, connecting the audience to real farmers' stories of their high-risk/high-reward lifestyles. Randy says the movie is scheduled to be released this spring.
Listen to or download the discussion with Randy and Dennis here: Bayer Ag Issues Forum, National Geographic and USFRA