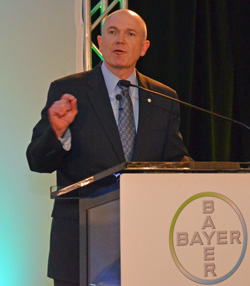 Just what does the world want from us? Sounds like a lot more food. This theme was consistently brought up in a lot of sessions during the Bayer CropScience Ag Issues Forum last week.
One of our opening speakers was David Hollinrake, vice president, ACO Marketing, Bayer CropScience LP. He told me, "The main theme of this week was really all about the exciting possibilities that exist in agriculture. We in the farming community are faced with a daunting task and that is to feed 9.6 billion people by the year 2050." Putting that into perspective we've got about 7.5 billion today. There is a lot of work to do!
In David's stage remarks he challenged us to think about agriculture not only in a traditional way but in a potential way of what it can be. He says agriculture is sexy. Yeah, I agree with that. Dave says we need exciting new technologies and a to foster a spirit of collaboration and cooperation. We also need passionate young people to come into the field.
You can listen to David's remarks here: David Hollinrake Remarks
You can listen to my interview with David here: Interview with David Hollinrake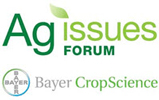 The Bayer CropScience Ag Issues Forum brings together a broad audience of agricultural journalists to learn about and discuss current issues. This year's theme is "What the World Needs." Look for more stories from this year's event coming soon.