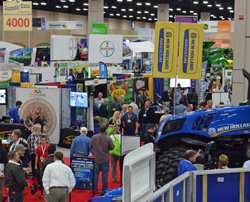 ZimmGlass did a little walk through the Commodity Classic Trade show on the way to the New Holland exhibit. If you wonder what it's like to walk around with Glass on your face, here's an example. You'll notice some interesting looks I got, some interactions and distractions and how much fun it can be. I know you want one, right?
So, the ZimmGlass Project is in full swing. I've ordered new frames and my lens prescription is being put in them right now. I ordered transitions so I can wear them out in the field this spring and summer.
I've met some great people walking around with ZimmGlass on. I'm now at the Mid-South Farm & Gin Show in Memphis and I had conversations with about a half dozen people just wandering around the show, including Jerry "The King" Lawler. He's coming up in a video interview soon.
Walk along with me at the Classic Trade Show: