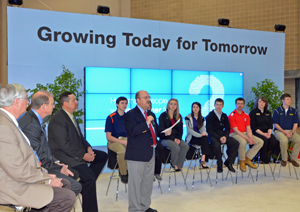 BASF Crop Protection is committed to growing the future of agriculture by investing in the next generation of professionals for the industry.
BASF this year has continued its partnership with the American Soybean Association (ASA), the National Corn Growers Association (NCGA) and the National Wheat Foundation (NWF) to present 10 students with scholarships today during the 2014 Commodity Classic in San Antonio, Texas. The scholarships were awarded to students across the country who are pursuing degrees in agriculture.
Dr. Gary Fellows, BASF Manager for Plant Health and Seed Treatment, presented the awards to the students at the BASF exhibit in the Classic trade show. "We're talking about the farm of the future and these kids are the ones that are going to run that farm," said Gary. "If you saw their applications for these scholarships, there's an excellent bunch of students here in all aspects of agriculture from communications, to science, to research, to practical agriculture. But what they all have in common is they are advocates for agriculture to the non-agriculture world."
We will hear from all the different winners in posts to come, but you can find a list of them all here and see photos in the album linked below.
Listen to my interview with Gary here: Interview with Gary Fellows, BASF
BASF at the 2014 Commodity Classic Photos