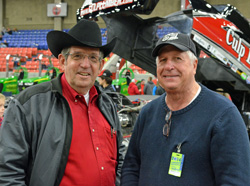 During this year's National Farm Machinery Show crowds gathered from across the country to watch the Championship Tractor Pull. The best tractors from across the United States competed in the coveted 2014 event and Chuck chatted with one of the announcers Butch Krieger.
"This is my 35th year here in Louisville. It just gets better every year. The competition is great and the tractor pull committee does a great job deciding who is going to come here. I don't think if I had even an opportunity that I could put it together as well as they do."
Butch is pictured on right with another announcer, Dave Bennett. Butch goes on to explain how this pull is held inside with a huge smoke machine that captures all the exhaust that the tractors produce. Freedom Hall is also equipped with heavy exhaust fans throughout the large arena.
Syngenta has served as a huge sponsor for the event for years and drivers were present during the show to sign autographs at their booth. Butch shared he understands it's hard to get tickets to the Saturday night pull, but says that throughout the week tickets are available to see some of the best tractors from across the nation compete.
You can listen to the interview with Butch here: Interview with Butch Krieger
National Farm Machinery Show Photo Album

Coverage of the National Farm Machinery Show is sponsored by
FMC
and
New Holland Agriculture