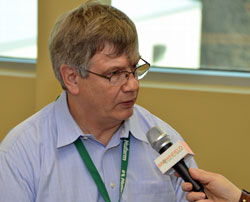 Nufarm's recent event allowed farm media to see first hand their facilities, ask the questions growers from across the land are asking and learn a little bit more about the ever-changing industry.
Meghan Grebner with Brownfield caught up with Bob Bruss, Technical Services Manager for Nufarm during the event and talked with him about the company and where they are headed to combat the weed resistance growers are seeing across the country.
"Some of the weeds are different in the South then they are in the North. Although we work with products that the active ingredient in patented, the weeds have been changing. Weeds are developing resistance to some of there herbicides out there. Some key weeds that are really changing the way farmers are managing their weed control programs is Mare's Tail or Horse Weed. It's a real problem in no-till because unlike other winter annuals Mare's Tail doesn't go away when it gets hot."
Bob goes on to share what others weeds are becoming herbicide resistant across the United States. He shares that farmers need to come up with a burn down program for winter, fall and early spring to control these weeds across your fields.
He also shares what products Nufarm offers growers to help combat these field robbers and how they can stay ahead of the epidemic.
You can listen to Meghan's interview with Bob here: Interview with Bob Bruss