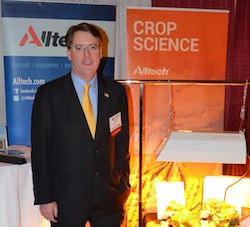 There is never a shortage of topics to discuss when it comes to Alltech. The company was present for last week's NAFB Convention Trade Talk and I chatted with Vice President of Alltech, Aidan Connolly and Ann Kopecky, Alltech's North American Field PR Manager.
Aidan shared how Alltech's Crop Science program is exploring natural alternatives to fungicides and focusing on microbes in soil to increase digestibility. Alltech has also conducted research in protein and carbohydrate content in crops. This improves yields and the nutrient value, but also passes down the food chain to those animals who consume them.
Alltech's Algae production facility was also covered. They have developed a source of algae with a wide range of benefits for many species. It can increase immunity, decrease mortality and increase litter size in herds. Herds who feed this type of algae can also brand their products as value-added DHA Omega-3 enriched for consumers.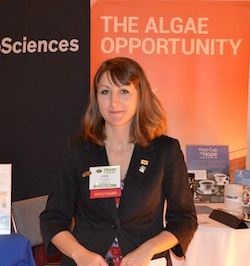 Listen to my complete interview with Aidan and learn more about their Crop Science and Algae programs here: Interview with Aidan Connolly
Ann talked about one of Alltech's newest ventures. The In Vitro Fermentation Model (IFM) is on course to be launched this winter. IFM is designed to be a support tool for nutritionists as it will evaluate and troubleshoot dairy rations and reduce feed costs. The model will identify barriers to diet fermentation, formulate rations based on nutrient availability and reduce the loss of energy.
Listen to my complete interview with Ann and see how you can utilize IFM here: Interview with Ann Koepecky
Checkout photos from NAFB Convention: 2013 NAFB Convention Photo Album