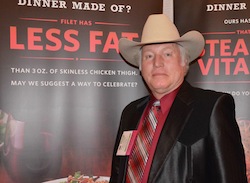 Herd numbers are down this year in the beef community, but enthusiasm is high. Cattlemen's Beef Board (CBB) Chairman, Weldon Wynn was on hand at this year's Trade Talk during the NAFB Convention. There is no doubt that the checkoff dollar is slim, but Weldon said they are making that dollar stretch.
Weldon went on to discuss our international market, how successful it has been and how much better it could be if we had the numbers. With the demand present, all we need to do now is grow our herds.
"Today in the foreign market with USMEF, one of our contractors, anytime we sell a calf we are getting back $234.00 in return for every head we are sending abroad. It's really working in the foreign marketing end of it."
The CBB has also put a lot of research into marketing to the millennial generation. And it seems social media marketing is key to educate this group of techies. They are sharing recipes online, answering questions via social media outlets and remembering the power of photo sharing.
The CBB and NCBA are also making final arrangements for this year's Cattlemen's Industry Convention and NCBA Trade Show. Music City will play home to the coveted event held February 4-7, 2014. Mark your calendars and plan your vacation to Nashville where you can have your voice heard on decisions that will shape your beef community.
Listen to my complete interview with Weldon here: Interview with Weldon Wynn
Checkout photos from NAFB Convention: 2013 NAFB Convention Photo Album